Description
Practice Pick Set for Locksmith Beginner 24pcs GOSO Remove Pick Tool with Transparent Locks Combination Locksmith Tools Kit

Description:
the 3 transparent locks are made of acrylic. The material is particularly robust and resistant. This is the improved new design pick set, elastic, durable and easy to use. It is very convenient to use with the ergonomic handle design. The 9 locks provided have different levels of difficulty and are therefore suitable for both beginners and advanced cracker.

Features:
1.Transparent Design - Know exactly what your are doing during lock picking with the transparent padlock. See clearly how the mechanism works. It gives you indications for the techniques required for lock picking. Great for beginners and to learn lock picking.
2.Safety Design Tool - The hook of the tool is made of advanced & smooth stainless steel, which will perfectly protect your finger from scratched. The handle is made of soft plastic which will let you feel comfort when you hold the tool.
3. This training lock is hefty and solidly built which works smoothly without loose parts or pins.
4.Great and useful locks set that will master your lock skills and bring you fun, knowledge. No experience needed, suits for Beginners and Amateur.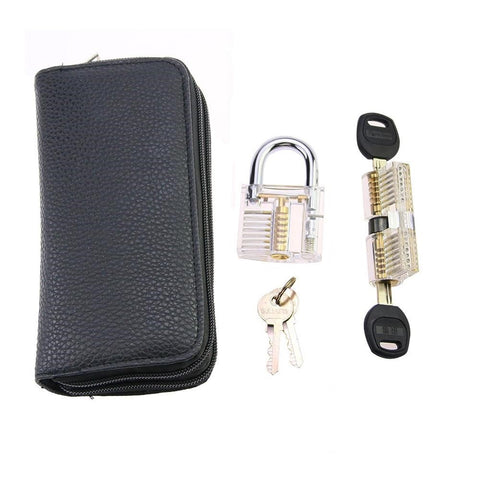 Payment & Security
Your payment information is processed securely. We do not store credit card details nor have access to your credit card information.